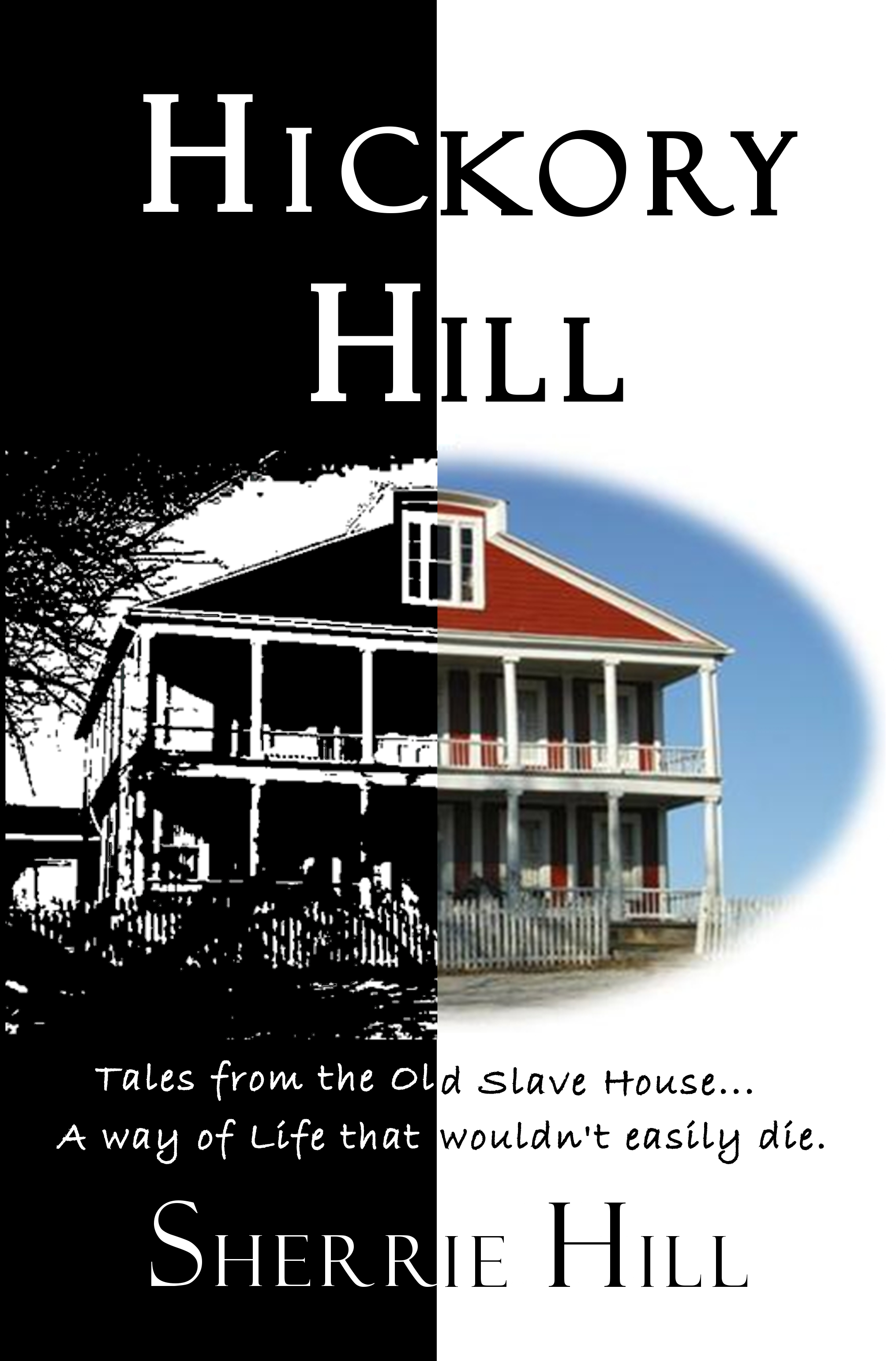 In HICKORY HILL, the historical fiction novel based on the real life thriving salt plantation built in Southeastern Illinois, by John Hart Crenshaw.

CELESTE and LILLY were both born and raised on Hickory Hill, one white, one black, in the shadows of slavery.
Moments after Celeste was born, four year old Lilly imprinted on her being for a lifetime. Their extended families taught them valuable lessons about life, fairness, love, survival and true friendship. Most importantly, they learned that everyone on Hickory Hill was family, blood relation or not. They grew up with stories told by Aunt Lizzie and Nana Elsie of hard lives, lives interrupted and of those souls who'd never known anything but to call Hickory Hill home.
John Hart and Francine (Sina) Taylor Crenshaw, Robert 'Uncle Bob' Wilson, Hickory Hill's breeder slave, come to life in this rambling detail filled novel. The isolated salt plantation touched many lives, not just those up on that lonely hill. Lucinda, a young black girl sold on the auction block in New Orleans and purchased by Malachi O'Denny who takes her home to his white family to be raised as one of their own, also ends up on Hickory Hill, her fate uncertain. At the time of its completion, and many years to follow, Hickory Hill was the largest private home and plantation for fifty miles or more in any direction.
Illinois was a free state, but Governor Ninian Edwards, a personal friend of John Crenshaw's, allowed Crenshaw to 'lease' slaves from slave holding states so there would be enough labor for the salt mines. It was a legal way of skirting around the laws. All over the country there was a lot of work to be done and not enough white men to do it.
These and many more stories of life lived on Hickory Hill are elequently told. The plantation Hickory Hill is also known as 'The Old Slave House' and was a thriving tourist attraction for most of the last century.
Hickory Hill, now called 'Crenshaw House', is currently owned by the State of Illinois. At this time they have no plans for renovation.
HICKORY HILL, locally known as 'The Old Slave House'.

Hickory Hill, about 1970. The truck parked in front gives you an idea of how big this place really is!

John Crenshaw and Francine (Sina) Crenshaw. John was apparently proud of his 'stump', he propped it up on his wife's knee so it would be in the photograph. Getting that stump turned his life around and changed the lives of many people. Life was certainly different on Hickory Hill after 'the accident', as he liked to refer to it.

The Sanks House, where Celeste was born. This was taken from the rear window on the third floor of Hickory Hill.

Uncle Bob Wilson, stud slave for Hickory Hill. (He lived to be 112 years old.) After he became a free man, he became a traveling preacher.